Domain Name Registration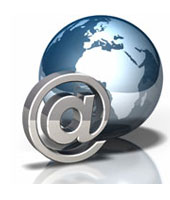 Domain names: the first step to getting your business online
Your domain name is your identity on the web, so choosing the right one is important. To be effective, your domain name should be short, and linked directly to your business. That way, people will remember it easily and not confuse you with your competitors.
It may take time to decide on a name that will help you create the perfect web identity for your business, but it's worth it. If you're stuck, or the name you've chosen isn't available, we can always help you with advice.
Once you have a domain name that's unique to your business, all your email addresses (such as sales@yourbusiness.com.au) will be linked to that domain, and promote your business name, instead of your Internet Service Provider's (ISP).
This will raise your web profile, making it easier for your customers to find you and your products on the Internet.
.au Eligibility
To check your eligibility for an .au domain name visit
http://www.auda.org.au/policies/auda-2008-05/
All .au domain names can only be registered for 2 years at a time. gTLDs can be registered for up to 10 years at a time.
Remember: your domain name is portable, so even if you change your Hosting or Internet Service Provider, you will never have to change your email address again!
Domain Name Availability
To check the availability of your chosen domain name, enter it in the space below.

If the domain name is listed as AVAILABLE, please contact us to register it.

If it's listed as TAKEN, try searching again for an alternate domain name.
Enter Domain Name To Check If Its Available: